Welcome to The Captain's Corner, a music and information centre for the piper, musician and the enthusiast, the world over.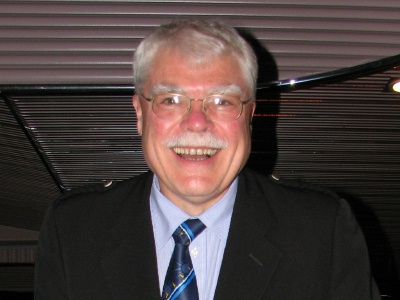 A Service for the Bagpiper
Hello! I am Ken Eller, also known as "The Captain", and in my 40 year piping career at the Grade 1 level I have been 15 times a winner of the North American Pipe Band Championships with two bands: the 78th Fraser Highlanders and the Clan MacFarlane Pipe Band. I am now retired from active competition and have expanded my involvement in instruction. It is my intent to be of service not only to students who participate in my workshops but also help the long distance piper needing special assistance.

I have been a member of the Piper's and Pipe Band Society of Ontario (PPBSO) since 1962 and am also a member of the Eastern US Pipe Band Association (EUSPBA). In 1984/85 I was admitted to the panel of Adjudicators for both of these organizations. In 2005, I qualified for Royal Scottish Pipe Band Association (RSPBA) adjudication panel and have been judging regularly in Scotland and Ireland since.
In March, 2004 my profile and life experience with the world of pipe music was the featured cover story in The Piper and Drummer magazine. It summarizes a lifetime of accomplishment in the piping field, almost 40 years of teaching, learning and competing at the highest level. I invite you to visit
for the latest of piping news and events.
While there, you might even see the following: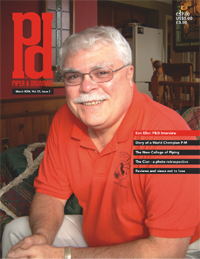 3/3/2004
March 2004

Piper & Drummer!


First-ever 72-page issue The March 2004 Piper & Drummer magazine (Volume 21, Issue 2) is currently on the press, destined for a mid-March delivery to our more than 3000 readers worldwide.

This issue is another milestone for the world's most read piping and drumming periodical - it's our first-ever 72-page edition, raising our count by another eight full-colour pages.

Among many other features, our subscribers can look forward to:

Ken Eller: The P&D Interview — we continue our historic, in-depth series with one of the piping and drumming world's most affable and accomplished characters, "The Captain" speaks frankly and enthusiastically about everything from his days with the great John Wilson, to the Clan MacFarlane Pipe Band, to his current dedication to teaching. Magnetic!
Please feel free to browse The Captain's Corner for piping information and other related activities. It is an information centre for everyone and an online tutor room for the piper of all levels. In the open pages you will find a piper's diary, historical photos and details of the tutor services available. There is a feedback page where you will see what others are saying. Finally you may contact the Captain or the Admiral directly through the Contacts page.
This site should be of interest to all pipers, beginner to advanced, teacher or student. It is your online Piping School, complete with library, study rooms and links to composers and retailers for all your piping needs.
Have fun .... Ken Eller, The Captain
---
For Subscriptions Click on:
Winter Storm 2021@Home
The Movie
Produced by
Murray Blair & Ken Eller
Free Music Downloads from the Concert
2021 Winter Storm Concert Coming Soon
Credits for the videos, with thanks to Rab Lennox, for Steven McWhirter and Brandon Ward for Fred Morrison and the Piobaireachd, led by Roddy MacLeod
---
Copyright © 2005 - 2022 The Captain's Corner